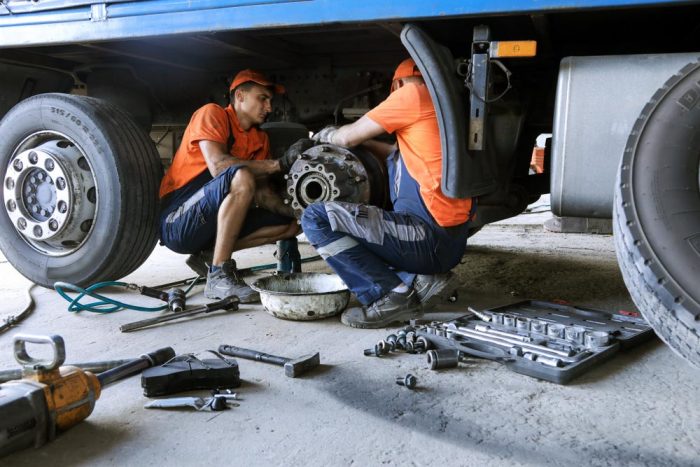 Whether we've winched your big rig out of a ditch or you're passing through Bellefonte, Centre County, or Pleasant Gap, PA and need your truck serviced, S & R Repairs Towing & Recovery Inc delivers repairs. We're available for big rig truck repairs of any type—whether you need new brake service and auto air conditioning repair or clutch replacement to get you back on the road. Our work also extends to trailer repair, with full capabilities to ensure your van, lowboy, container, and step deck trailer is in road-ready condition.
Heavy Truck Repair
You put tens of thousands of miles on your truck each month. That wear adds up over time! Eventually, parts and components start to give out, and you could find yourself in a situation where you need repairs to get back on the road. If we can perform the service you need roadside, we'll get your big rig into our shop for repairs. From electrical to mechanical work, engine to undercarriage, we deliver heavy truck repairs that keep your vital systems running properly.
Brake service
Clutch replacement
Electrical work & auto air conditioning repair
PA inspections
PM service
Tires
Transmission repair
Truck lights
Complete Trailer Repair

Whether you're dragging a lowboy behind you, have a van trailer in-tow or need repairs for your reefer, we're the authority on trailer repair in Bellefonte, PA. Our experience extends to all trailer types, no matter the types of repairs you need to keep your trailer—and whatever you're hauling with it—in good condition.

Fleet Maintenance

We're a trusted partner for fleet maintenance and proudly serve shipping and freight companies throughout Bellefonte, PA when their vehicles are due for service. Schedule an appointment every six months for routine upkeep and let us help keep you on the road and off the side of it!
Keep You Rig on the Road
We're one of those truck repair shops that brings truckers and trucking companies truck and trailer repair services they can count on. Reach us today at 814-355-7007 to schedule an appointment or to inquire about our capabilities, which also include PA inspections and towing services.